限定10個
3日限定販売
販売終了しました。
Regular price
¥7,900 JPY
Sale price
¥9,900 JPY
Unit price
per
Sale
Sold out
[Must read] About delivery time

Your order will be delivered within 10 days of your order.
Payment method

Credit card (VISA / Master Card / American Express / JCB)

Paypay, LINEpay

Convenience store payment (Family Mart / LAWSON / Ministop / Daily Yamazaki)
It has been discontinued.
*This product will not be resold as it is a collaboration limited item!
We were approached by Atelier Apronne Nagoya, an apron specialty store, and the collaboration was realized!
We have developed items to make meal time more enjoyable for families with dogs.
Features of collaboration apron
Point01: Collaboration design
This is a collaboration design with SASSA embroidery on the apron of Atelier Apronne Nagoya. It features a simple design, and the subtle dog embroidery makes it irresistible for dog lovers.
Point02: It's lightweight so you won't get tired even if you wear it for a long time.
Made of lightweight material, you won't get tired even when wearing it for long periods of time.
Point03: Different materials are used on the front and back sides.

The outer material is made of a material that absorbs water quickly when wet and dries quickly, making it easy to remove pet hair.
The lining is made of highly waterproof material, so you can use it for purposes other than cooking, such as shampooing your dog.
*The fabric has the effect of suppressing static electricity, but this decreases with repeated washing, so you may gradually find it difficult to remove the hair.
In that case, we recommend that you go to a cleaning shop and have it treated to restore the static electricity suppressing effect. (We apologize for the inconvenience, but as the methods differ depending on the store, we cannot guarantee that the hair will fall off easily.)
*Due to aging, the ability to easily remove pet hair may weaken. Please note.
*Not completely waterproof If it is in close contact for a long time or pressure is applied, it may penetrate. Please note.
Point04: Available in khaki and navy

Available in two colors: khaki and navy. You can choose according to your preference.
*The quantity for each color is determined, so it will be on a first-come, first-served basis.
Point05: There is a pocket on the side

There are pockets on both sides, so you can store your smartphone and other small items.
If you often read recipes on your smartphone, have you ever left your smartphone in an empty space in your kitchen?
Grease stains from cooking can also be blown onto your smartphone, so having a pocket where you can easily put it away is a good idea.
Point06: You can change the neck strap or shoulder strap to suit your preference.
You can change the way you tie it with either a halter neck strap or a back cross type shoulder strap, so you can use it according to your preference.
The length is also adjustable, so it can be adjusted to a certain extent to suit the usage scene and user.
Recommended for times like these!
When cooking for dog lovers!

I think it would be hard to find an apron with a one-point design for dogs.

Also, if you don't usually wear an apron, why not try this one on?
Wearing dog items will make your everyday life a little more fun.
When giving your dog a bath!
Bathing your dog is quite difficult, isn't it? It's easier if the dog is calm, but not everyone is like that.
There are children who hate baths, and children who love baths and have fun. Such as quiet children who don't make the slightest movement...
Pet dogs have different personalities.
However, one thing that all children have in common is bubbly! lol
When a dog's body gets wet, I think it flops around and sprays water.
Therefore, it is inevitable that the owner will get wet when giving a bath...
So, by wearing this apron, I think you can avoid getting your clothes wet!
You can also use it like that.
How about other scenes like this?
・When cleaning the garden
・When caring for your dog
・During cooking class
About apron size
The size is free size, so please follow the measurements above.
If the size does not fit you, please contact us on Instagram or official LINE. With the cooperation of Atelier Apronne Nagoya, we can also discuss semi-custom sizes. (Conditions apply)
You can only purchase it now!
Limited to 3 days from 7/15 (Sat) 10:00 to 7/17 (Mon) 19:00.
We will be pre-selling limited to 10 pieces!
Please note that this is a limited-time collaboration project, so it will be sold in limited quantities and for a limited time.
It may not be available in the future, so if you are interested, please check it out now.
Share
View full details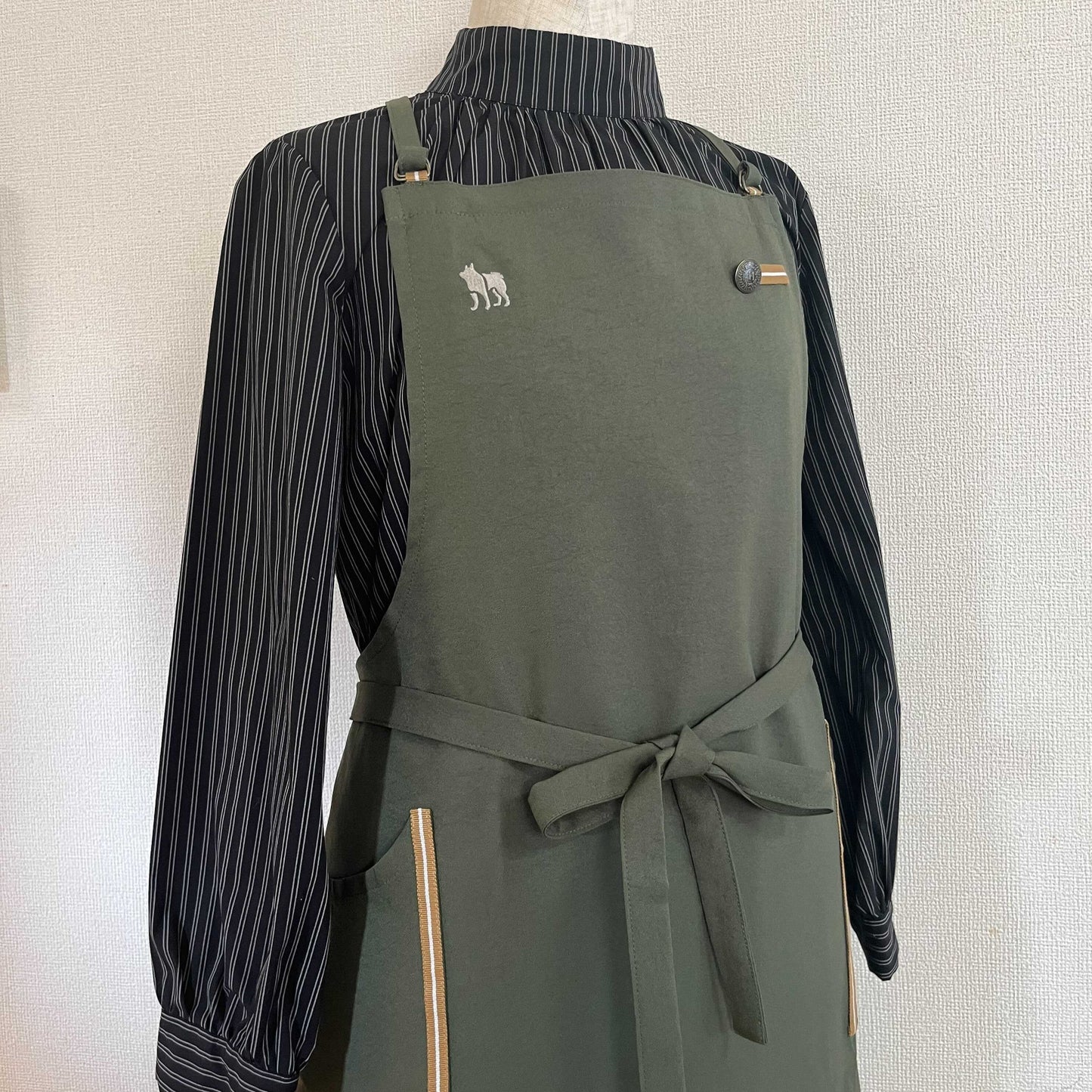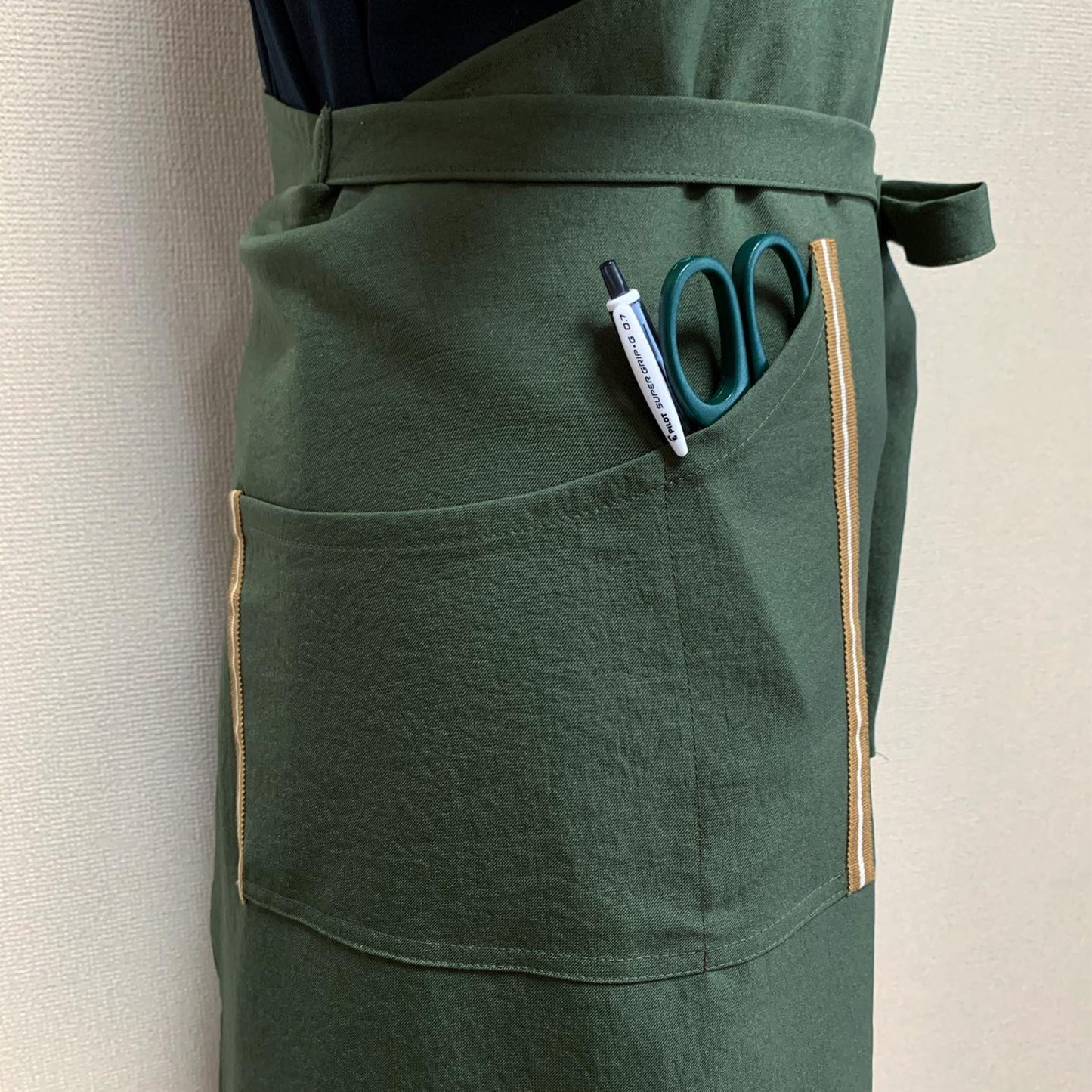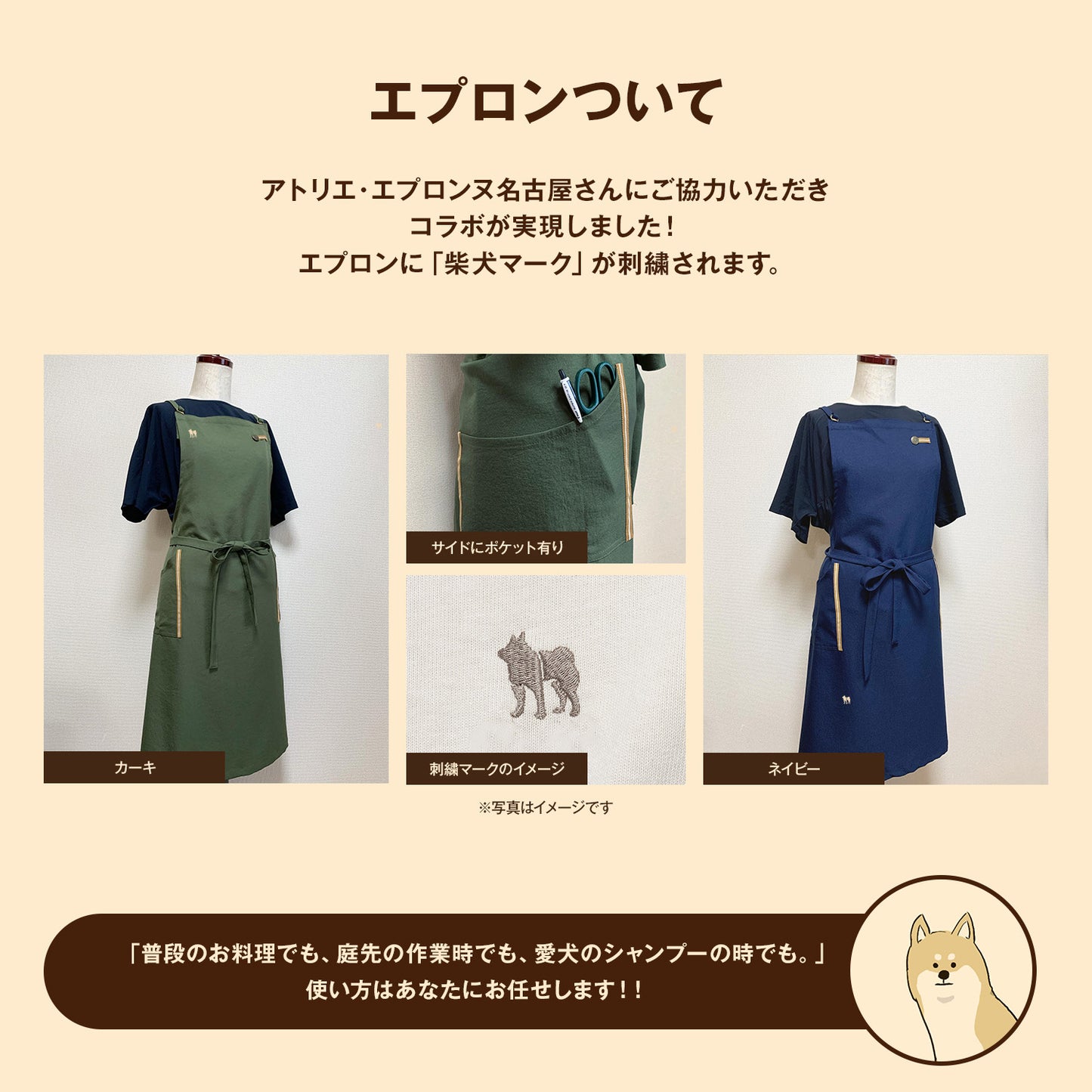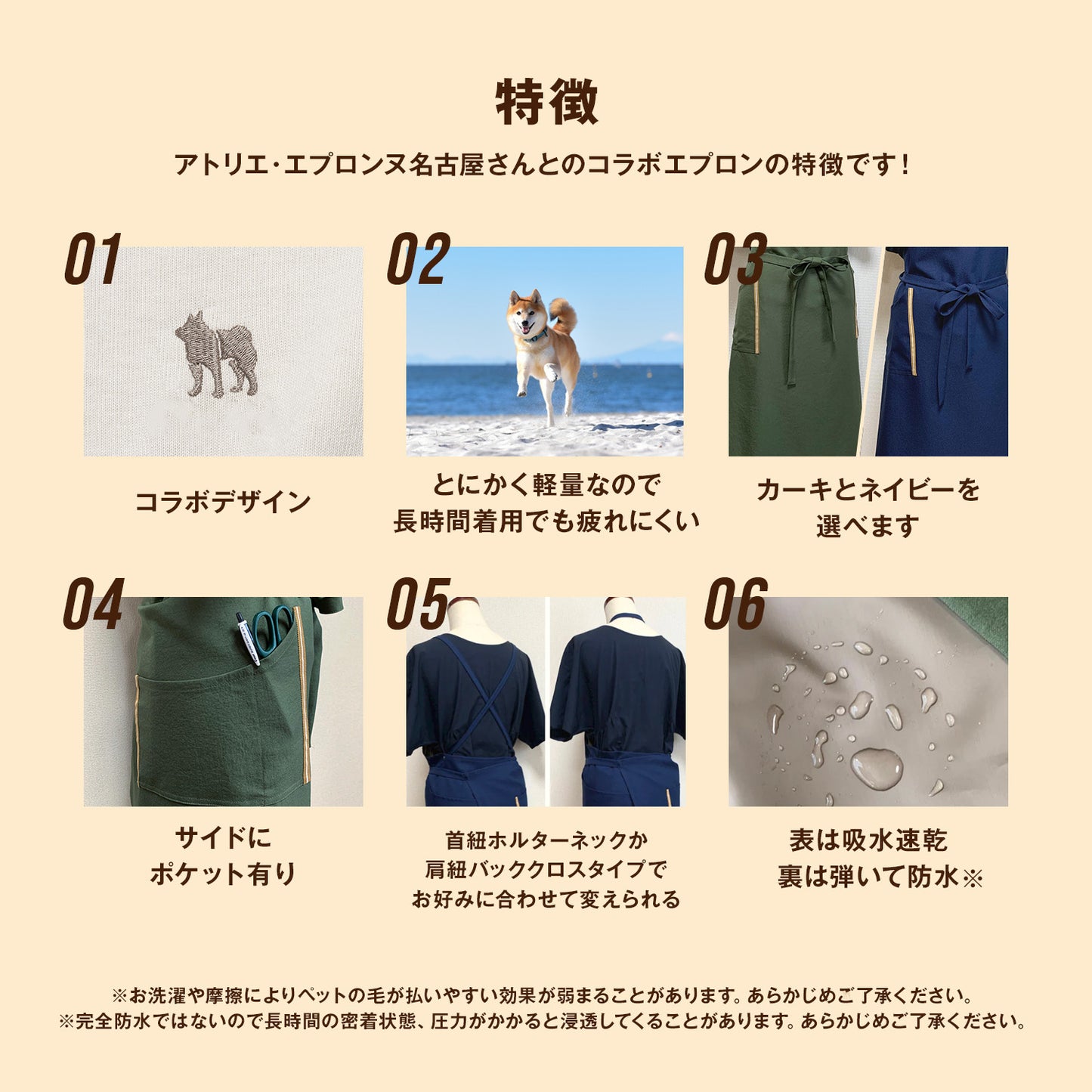 モニター企画エプロン
落ち着いたカーキーの色味にささいちさんの柴犬ワッペン、アクセントにリボンの線が付いたとってもかわいいエプロン。
ポリエステル100%でしわになりにくく、裏地が付き撥水加工で服まで濡れず、濡れても乾きやすい。
膝まである長めの丈で、長さ調節可能。
両側に大きめのポケット付きでスマホもすっぽり入ります。
ささいちさんデザインの柴犬の刺繍付きでとってもかわいくて、機能も素晴らしいエプロンです!
自分用にはもちろん、プレゼントにもとっても喜ばれると思います。
たくさん使わせていただきます!
モニター企画エプロン
着用感想
お風呂掃除をするといつもびしょびしょになってたのが全く濡れなくて、撥水加工と速乾加工にびっくりしました🤩
いつもポケットに携帯を入れててポケットが浅く落ちてしまうことがあったのですが落ちることなく家事、介護ができました⭕️写真を撮りたい時にポケットが大きくて携帯が取りやすいです!
私はバッククロスタイプを使ってみました。いつものやつは調節がなく肩紐が落ちたり丈が足りないものばかりでした。ですがこのエプロンは調節があり、ご飯や介護をする時は短めにお風呂掃除する時は長めにして使い分けられてめちゃくちゃ便利です🙆‍♀️
ばあちゃんはホルターネックタイプを使ってみました。いつも使ってるものは調節がなく首の辺りがゆるゆるで前側ががパカパカしてたのが調節があることでピッタリ着れて家事がしやすいと言ってました!
また、丈が長いのでお尻を隠せて体型を誤魔化せるのもいいと言ってました。
刺繍のデザインもカーキカラーも可愛くてみなさんにおすすめしたいエプロンです💚
ペットの毛や髪の毛も全く付かず感動しました🥺👏
たくさん使わせていただきます✊🏻