Regular price
$48.00 USD
Sale price
$31.00 USD
Unit price
per
Sale
Sold out
*Please be sure to write your Instagram "ID name" and "account name" in the notes section of the cart screen.
We are currently looking for dog models on Instagram.


Among them, we received comments such as "I want to decorate it!", so
I made the illustrations I drew available to purchase as canvases.
*Prices have increased slightly since the first illustration project. However, we still want to reach as many people as possible, so we are lowering the price than we would originally like to offer!
We will continue to plan and if demand increases, there is a possibility that the sale will end or the price will increase further, so if you are interested, we recommend that you order as soon as possible.
◆Size chart
Share
About delivery time

Ships within approximately 2 weeks of purchase.

*Estimated delivery times for other products will be included in the email after the purchase is completed, but illustrated products will be delivered according to the estimated delivery times listed here.
View full details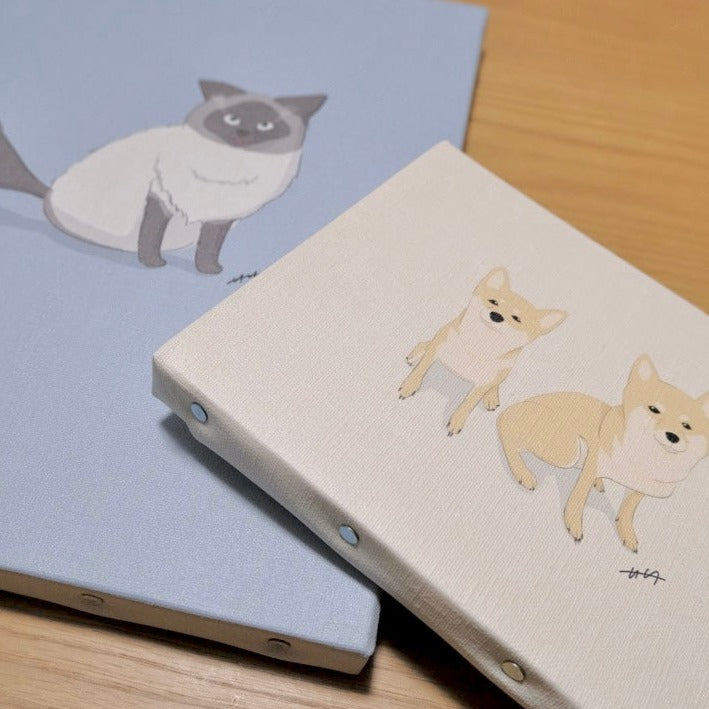 かわいいです!
今回は飾り棚用で小さいサイズをお願いしましたが、今度はもっと大きいサイズもと思いました。
キャンバス
とても優しく温かいイラストで気に入ったので、キャンバスにしました。初めてキャンバスの絵を購入したのですが、どこに置いても馴染むので飾る場所悩みます😆一人暮らしの娘にも小さなキャンバスを送りましたが、可愛いととても喜んでくれました。プレゼントにも良いですね❣️
特徴をバッチリとらえてくださいました!
sassaさんのシンプルな世界観が好きで、うちの子も描いて頂きました!
ポツンと立っている感じ、こちらに向かって何か言いたげな感じがよく出ていてお気に入りの1枚です!
早速リビングに飾っています。
シンプルなのでインテリアに溶け込み易いところもいいですよ!
ありがとうございました!
シンプルおしゃれテイストがたまりません♡
ふんわりカラーで部屋に馴染むので、主張しすぎず愛犬を感じることができてうれしいです!
うちは割と殺風景な内装なんですが、こちらのキャンバスを飾ることで温かみのある空間になったなぁ〜と感じます☺︎
【イラスト描かせて頂いた方限定】イラストキャンバス